Blog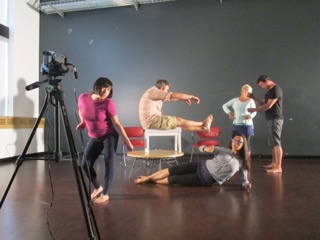 A two-day, closed workshop, whose aim is to present the strategies used by the collective in their work on new productions. The workshop presents the methodology of using text and video to create the structure of the show which combines reality and fiction. Gob Squad will present methods and the process of working on the example shows "Western Society" and "Dancing About".
Workshop participants will be preparing material based on autobiographical and political stories, using video tools, text, movement and improvisation.
The workshop is intended for everyone who want to develop the skills of creative expression (stage experience is not required).
Classes will be conducted in English.
Gob Squad – Anglo-German artistic collective, a legend of European independent theater
Workshop dates: 8 and 9 October (daily from 12:00 to 16:00)
Venue: Cultural Centre in Lublin
Limit of participants: 15 people
Cost of participation: 300 zł (the price includes a ticket to the show Gob Squad on 7th of October). In addition, workshop participants will be able to purchase tickets to other events during the festival at a special price.
Applications (in English) containing a short biography and the reasons why he wanted to take part in the workshop, please send an email konfrontacje.lublin@gmail.com with a note in the subject – workshop GS.