Blog
Residencies
NeighboursFestival's International Residency Programme
Redakcja
15.09.2016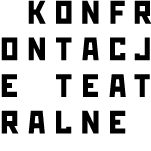 Noticing a glaring lack of residency programmes in Poland, ones which would not only allow those working in the performative arts to develop new projects, but would above all create the environment for international cooperation and exchange of experiences with partners from other countries, the Theatre Confrontations Festival has opened its new Neighbours residencies programme. We thus intend to actively support both Polish and international communities working in theatre and dance.
The programme will involve a series of artistic residencies and educational activities. Our aim is to bring the most interesting Polish and international dance and theatre professionals to Lublin, helping them work with local artistic communities and share their craft with our audiences.
The programme includes long-term residencies aimed at independent artists, which will be focused on conceptual art and at new productions, as well as intensive creative workshops, led by the most renowned experts in the world. They will share their craft and experience with the local and national creative community.
In 2016, the residential programme involves:
"Metamorphoses" by the Dutch-Ukrainian group Mime Wave, led by Anastasia Liubchenko
"Usland. Following in Leonard Z's footsteps" by Agnieszka Jakimiak, Mateusz Atman, Daniel Malone and Agata Siniarska – the project was prepared in collaboration with the Goethe Institute at the Kultursymposium Weimar 2016
"Mothers of Steel", a show by Agata Siniarska and Madalina Dan, prepared in collaboration with the Art Stations Foundation in Poznan and Motus Prague, it is also a continuation of the work began as part of the Identity. Move! project, in partnership with the Centre for Culture in Lublin
The programme will be enhanced through workshops for those who work in theatre, developed during the Theatre Confrontations Festival (6-15th of October 2016) and will be led by:
Gob Squad – a British-German arts collective, famed throughout European independent theatrical circles
Agrupacion Senor Serrano – a Catalan theatre company which received the Silver Lion Prize for performative arts at the 2015 Venice Biennale
The workshops will be accompanied by new performances developed by both groups during the Festival.
The Neighbours residential programme was initiated during the festival of the same name, staged at the Centre for Culture in Lublin between 2006-2015. It is curated by Grzegorz Reske.
When the idea of starting the Neighbours Festival came up some 12 years ago, one of our main aims was to bring the people of Lublin closer to countries which neighbour our city through their arts.
Today, however, the city and the European context we operate within have changed. Lublin is more and more often home to other languages (not only coming from tourists, but also those who have chosen to settle here). When Witold Mazurkiewicz, after a decade of directing the Neighbours Festival, announced that he would be closing it down and suggested I take over using a new festival formula, I thought about the new meanings which the word "neighbours" has taken on in recent years – in many ways more relevant than ever before.
Hence, the residential programme will involve us asking questions about contemporary neighbourhoods – from behind a wall, the local shop or the common block of flats, but also on a shared continent. We will ask questions of artists from Poland and Europe who will temporarily become our actual "neighbours", seeing as – aside from work on artistic projects – they will be our actual neighbours over the period of the residence: shopping nearby, drinking beer in local pubs and taking walks down the same streets. They will bring us their tales, but will also come open to that which we have to share with them. I truly believe that the new formula for the Neighbours legacy will be accepted by both artists (for whom Lublin will become a place of work for a few months) and for audiences, who will have more direct contact with visiting artists and therefore the opportunity to see their methods of working up close, as well as to learn more about the sources of their inspiration. It will also be an excellent opportunity to have our guests and the local artistic community meet, hopefully resulting in many new joint projects.
Grzegorz Reske
Translated by Marek Kazmierski